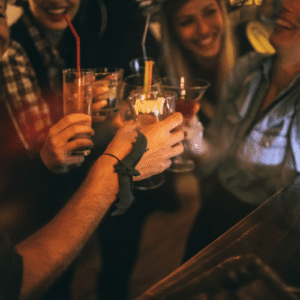 Food & Drink
A unique and enticing blend of flavours and frights awaits as you step into Pumpkin Hollow with a fish and chip van, hot sugar doughnuts and a fully licensed bar serving beers and creepy cocktails. The aroma of crispy, golden fish and perfectly cooked chips fills the air, drawing you closer to the inviting van. As you savour the deliciousness of your meal, the atmosphere around you takes a twist towards the eerie.
The doughnut stand, shrouded in a mysterious mist, beckons with the promise of sugary delights. The hot sugar doughnuts are served fresh, their sweetness complementing the savoury notes of the fish and chips. But amid the warmth and sweetness, a hint of spookiness lingers in the air, setting the stage for an otherworldly experience.
The bar, adorned with eerie decorations, offers a range of chilling concoctions. Our fully licensed bar will be serving a range of beers and cocktails to suit everyone, each drink tantalizes your taste buds while stirring a sense of enchantment and trepidation.
As the sun sets and darkness envelops the scene, the setting becomes more mysterious and thrilling. Ghostly figures, brought to life by actors, add to the ambiance, making you wonder if the line between reality and the supernatural is truly blurred. Laughter and shrieks of delight fill the air as people embrace the spooky theme, creating an electric atmosphere of fun and fright.
Amid the revelry, you find yourself immersed in a uniquely delightful and spooky experience. The combination of traditional comfort food, sugary treats, chilling cocktails, and eerie entertainment makes for an unforgettable evening that leaves you with a mixture of excitement, fear, and a lingering taste for more.
Please note dogs will not be permitted inside the bar and live music area, but are more than welcome in any of the outside areas including the pumpkin patch