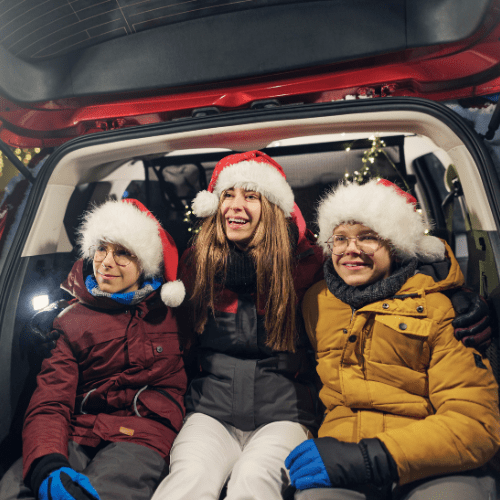 Hatton's Drive-in is back and this time it's festive!
Get ready to kick off this festive season with our magical Christmas Drive-In Cinema experience! Gather your friends and family or make it the perfect date night under the starry winter sky. Snuggle up in the comfort of your car as you're transported to a world of festive magic. We've handpicked timeless classics and heartwarming Christmas films that will fill your heart with joy. From sipping hot chocolate to sharing laughter and love, our Christmas drive-in cinema is where cherished memories are made. Join us for a cozy and memorable evening that will surely ignite your festive spirit.
With catering options available Hatton's Drive-In cinema has it all, order your food at the catering station, grab your drinks from the bar and when ready we will deliver your food to your car, saving you from missing any of your festive film.
Why not make your evening even more festive and add tickets to Hatton's light trail which can be enjoyed before or after your festive film, with a mile of lights to explore it will be sure to round off the perfect festive evening.
When should we arrive?
We would suggest arriving 15 mins before your showing, spaces are determined by a first come first serve and vehicle size basis.
Can I bring my mini/camper van or pick-up?
As long as your vehicle fits in a standard car park space yes you can, however taller vehicles will be guided to park further back as not to obscure others view.
How do you hear the audio from the film in your car?
Either via the FM Radio in your car or via provided headphones, headphones must be returned at the end of the film, Head phones are limited and will be on a first come first serve basis.
Can I bring our dog?
Yes, but they must remain in the car or if sitting outside the vehicle they must remain on short leads and any fouling must be cleared and disposed of by yourself. Any dogs creating a disturbance may be asked to leave and no refund will be provided.
Dates?
Please see the graphic above for a list of all the films and dates, times can be found when going through the booking process.
Will there be food and drinks available?
Yes, there will be hot food and drink available to buy when arriving and during the film.
Will the event take place in rain/bad weather?
The event will go ahead in most weather conditions, as long as there is no risk to the audience. The event is designed so you can experience the film from the comfort of your car. If we experience very severe weather the event may need to be cancelled at short notice. This is down to the discretion of the organisers. You will be notified by email and offered an alternative date. Tickets are non-refundable.