Unlocking the Secrets
September 17, 2023
Escape Rooms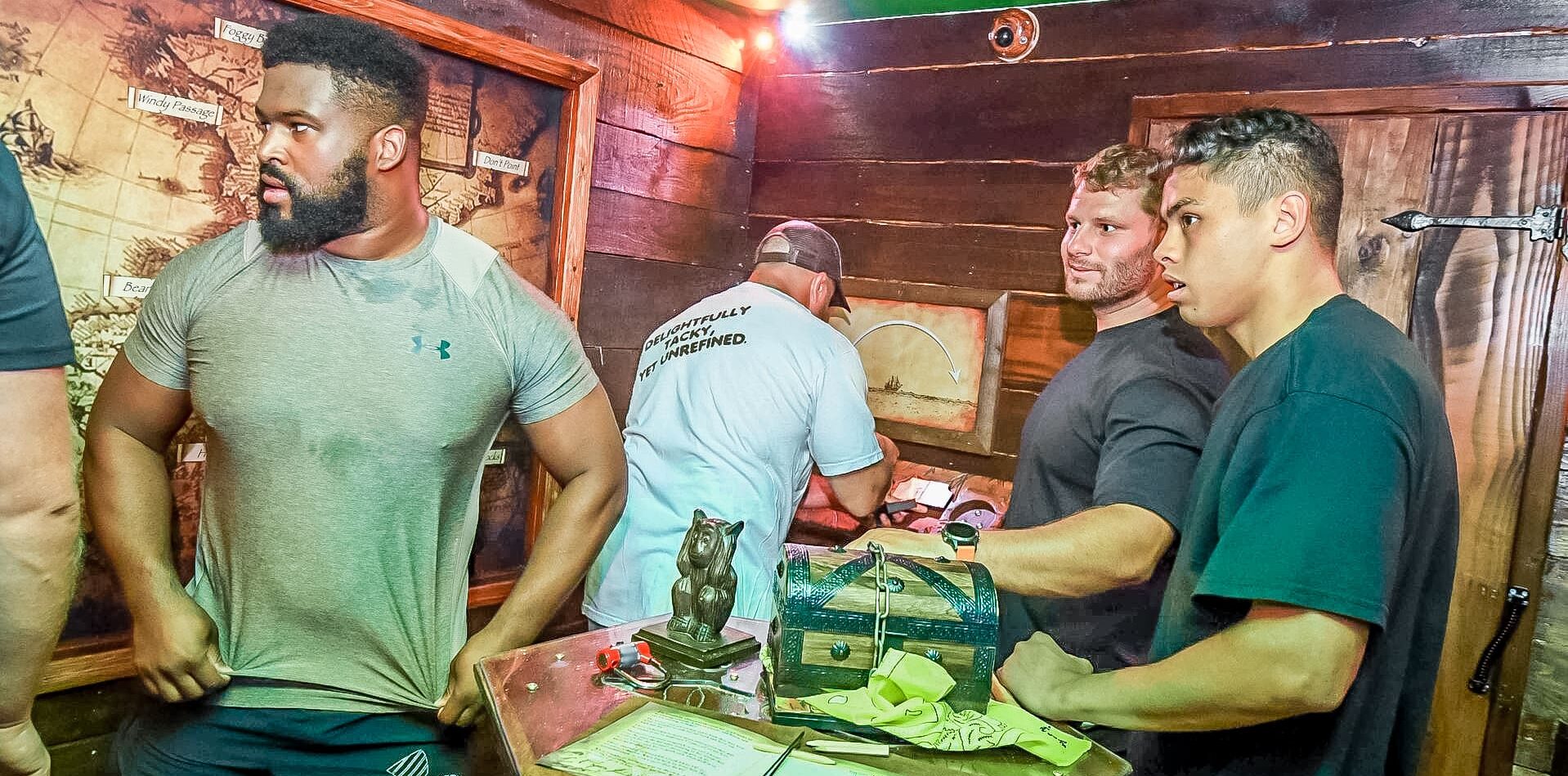 Have you heard all the hype about escape rooms, but don't really know how they work or how you can beat them? Well, if you're new to escape rooms, this guide is perfect for you as it'll discuss everything you need to know, including tips to help you beat the game.
Have you heard all the hype about escape rooms, but don't really know how they work or how you can beat them?
What is an escape room?
An escape room is an immersive experience where groups look for clues and solve puzzles to escape before the time runs out. You usually have 60 mins to figure out all the clues and break free.
How do escape rooms work?
Choose your theme
Escape rooms typically have different themes, with the most popular being based around pirates, bank heists and prison breaks. Once you've chosen your theme, you're usually able to book it over the phone, online or in person, but it's recommended that you book in advance to prevent disappointment.
Get introduced to your games master
Before starting your session, you'll meet your games master. They will take you to your escape room, explain the rules and answer any questions you may have.
 Understand your missions
Usually before starting your game, you'll watch a video explaining your mission and how much time you have to escape. Escape rooms vary in theme, and not all revolve around escaping; some might involve completing a heist or launching a spaceship.
Try and escape
The first thing you need to do to break out is start searching the room. Look out for objects or patterns that look out of place, as these can help you make connections between different clues.
Tips to help you win at escape room games
Get started straight away
An hour may seem like a lot of time, but in reality, it flies by. You should start looking for clues or puzzles straight away to ensure you don't waste too much time at the beginning.
 Don't crowd round one puzzle
If everyone's looking at the same clue it's leaving out time to examine other ones. While it's beneficial for multiple people to work on a clue together, splitting up into two's could be a better way to escape within the time limit.
Shout out what you find
When people find a useful object or solve a puzzle, they should shout it out, as other team mates may have something that relates to their answer or clue. This can help you work better as a team and increase your chances of completing the game.
H3: Don't force anything
The game hosts want you to break free so if something is meant to open or go together it will, don't force anything! Breaking something won't only spoil the game but could be very expensive to replace so be careful.
Don't overthink things
If you're starting to overcomplicate things and come up with wild theories, it's likely you're overthinking things. Remember to keep it simple and while the game is meant to be challenging, it is also meant to be fun so it shouldn't be too difficult to work out any clues.
Ask for help
Remember, you can ask your games guide for a clue if you're stuck!
Escape rooms at Hatton Country World
Here at Hatton Country World we have two escape rooms that could be perfect for you. Our easier scenario, Mutiny, is ideal for beginners, families or groups with mixed escape room experiences and is based around piracy.
Our more difficult room, The Outfitters, is based around the Prohibition era and is perfect for those looking for a more challenging game.
We also have our own pub, the Hatton Arms, which is great for those looking to make a day of it by enjoying a meal or a drink before or after their escape room experience.
So, if you're looking forward to giving your first escape room a go, book one with us today!