Autumn Adventure Awaits
September 17, 2023
Hatton Country World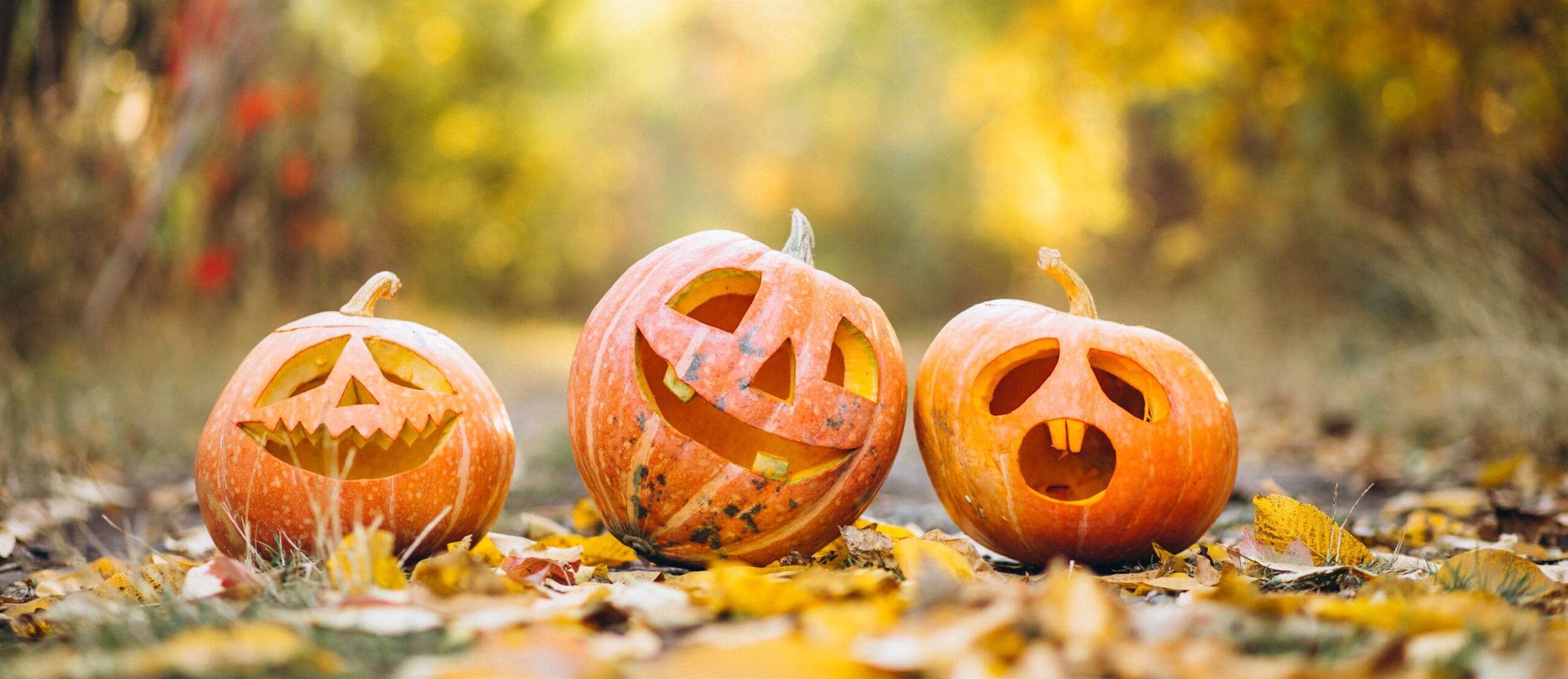 With Autumn just around the corner, it's a great time to embrace this wonderful season and start filling up your calendar with fun family days out. From abundant harvests, to falling leaves and deep brown conkers, there are a plethora of opportunities for exciting autumn days out.
So, grab your scarves and get ready – here are a few autumn activities everyone will enjoy!
Exploring pumpkin patches
Pumpkin picking has become synonymous with autumn and it's easy to see why. From late evening pumpkin picking where you can pick your own (PYO) pumpkin under the glow of the moon, to perusing the patches during the day, a family trip to a PYO pumpkin patch is a great way to make memories with both friend & families and can even become an annual tradition.
Is there a better way to spend an afternoon sipping a hot chocolate or a mulled cider and finding the very best pumpkins to carve or decorate your home later that evening?
Hatton Adventure World's Halloween Spooktacular where you can find a daytime PYO pumpkin patch is open every weekend from 14th October the 28th to 31st October and offers fun for all the family. Children get 1 free pumpkin and can get involved in family friendly spooktacular events and activities! You can book tickets here. 
If you've got a four-legged friend, you could even opt for a dog friendly pumpkin patch where everyone can get involved. Dogs are more than welcome at Hatton Country World's Pumpkin Hollow evening event aimed at those with who prefer there nights with a few more frights, this experience is not for young children. Book your tickets online! 
Dogs are not permitted in the Adventure world's children's Halloween spooktacular event due to live-stock.
Halloween themed events
If you and your friends or family love all things spooky, then a Halloween event is a great way to make lasting memories whilst getting a few jumps scares in.
From paranormal ghost tours around Warwick's atmospheric graveyards and countryside's, to telling scary stories around a crackling fire, and late-night scare events, there are several family friendly Halloween events for kids where you can experience Halloween on a whole new level. Hatton provides Halloween activities for both children and adults so everyone can experience the fun during this fright filled season.
Hatton Country World's Pumpkin Hollow
Hatton Country World's Pumpkin Hollow is open every Saturday in October from 6-10PM and is sure to deliver a scare or two as you weave through creepy cabins on your way to the Pumpkin field. Packed with a Bewitching Bar, live music and a great range of street food, it's the perfect way to spend your Saturday night!
If that's not enough entertainment for you, they'll also be screening some of the scariest horror films on our big screen every Saturday night in October. The showings will take place at 6:30PM and 9:30PM – and you can order food directly to your car. It's the perfect date night activity for those who love a jump scare! Book your tickets online! 
But do be warned this activity is not suitable for younger children or those of a nervous disposition.
Hatton Adventure World's Childrens Spooktacular
Hatton's Childrens's Spooktacular event is sure to make a memorable day out!  Taking place in Hatton Adventure World every weekend from 14th October the 28th to 31st October. With a Haunted House, a Zombie March, and a Tractor Safari, you'll be sure to have a memorable experience. You can book tickets here. 
Countryside walks
Spending time with friends & family doesn't have to break the bank. In fact, it doesn't have to cost a penny at all! Why not take in the beautiful autumn scenery and embrace the spectacular colours that transform ordinary forests into magical wonderlands with a relaxing autumn countryside walk.
Again, the fun doesn't end when you've finished your walk. Why not encourage kids to go on a treasure hunt to collect fallen pinecones and leaves, where they can paint them or create their own nature journals to document their discoveries. It's a great way to spark their curiosity about the natural world. For the adults, why not plan your route to include a pit stop at a country pub for a quick drink (or even a hearty roast dinner)?
There are hundreds of country walking trails in Warwickshire – if you're looking for a route, browse our leaflet for some walking routes in Hatton.
Harvest festivals and farmers' markets
Warwick is packed with lovely farmers' markets and harvest festivals, and a lot of them are free to attend! Going to a farmers' market or harvest festival also gives you the opportunity to try new fruits and vegetables. From deep red radishes, to purple carrots and luscious green kale, it can spark an interest in healthy eating.
Some festivals and markets also include craft fayres where you can get involved in arts and crafts, whilst learning about agriculture and the food that ends up on their plate. So why not come together outside for a few hours, and embrace the exciting, community atmosphere that harvest festivals and markets are renowned for!
And remember, going to a festival or market can be as cheap or as expensive as you make it – for those on a tighter budget, why not bring a picnic and thermos of coffee or hot chocolate!
Check out some of the latest markets in Hatton here.
Wildlife spotting and bird watching
There's an abundance of wildlife in Autumn that are busy preparing for the winter months ahead. From squirrels and foxes, to hedgehogs and door mice, going on a wildlife spotting adventure is a free and exciting way to spend an afternoon or two!
Why not get your wellies on, grab some binoculars and visit local nature reserves and wetlands, where you can observe a variety of birds. Wildlife spotting and bird watching is a highly educational outdoor family activity that can spark lifelong interests and passions for kids, and it doesn't have to cost a penny. For more information about wildlife to spot throughout the season, click here.
Bonfires nights and fireworks displays
As the nights grow longer, autumn evenings become the perfect setting for bonfires and firework displays. There are several local events or community gatherings across Warwick that offer firework shows.
Wrap up warm, sip on hot chocolate, and enjoy the mesmerising bursts of colour lighting up the night sky. Remember to prioritise safety and follow any guidelines or regulations in place.
If you're looking for a family friendly firework event, join us Friday 3rd or Saturday 4th November for an evening of fireworks, entertainment, thrills and delicious food.
With spell-binding fire dancers, fire-walk, family-friendly fairground rides and a host of street food stalls ready to tickle your tastebuds, you'll have an incredible time. Book your tickets here.
For those on a stricter budget, if the views allow you could watch the fireworks from the comfort of your back garden, or you can find a vantage point in Warwickshire where you can watch the fireworks for free!
Days out in Hatton
Remember, spending time with your family doesn't have to break the bank – sometimes, the best memories are made when you just get out and about. Autumn is a beautiful season that offers an abundance of outdoor activities. Be sure to keep your eye on Hatton Country World's website for their latest events in Warwick!